After Dinner Entertainment
In the United Kingdom, after dinner entertainment is important, especially if you want to turn your night from a great evening to a remarkable one.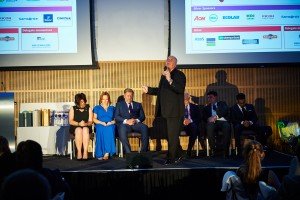 Do you ever wonder what makes after dinner cabaret special? The main reason why entertainment nights are most popular here is that people love watching the talent that hypnotist Adam Night shows to his audience. Having 35 years of experience as a comedy stage hypnotist, he is sure to leave you stunned, speechless, shocked, laughing, mind-boggled, and most importantly, "entertained".
After Dinner Entertainment with Adam Night
Throughout his two and a half hour show, Adam dazzles people with his comedy stage hypnotist skills, and mentalism powers. A renowned hypnotist in the UK, Adam Night takes his mind reading and hypnotic talents to a whole new level, making it one of the most memorable after dinner entertainment night ever imagined. Adam is specialised in showcasing exciting and thrilling powers of controlling and reading the human mind. Nights with his incredible talents can surely leave a blend of humour, intrigue, and fun.
Why Choose Adam Night For After Dinner Entertainment?
The number one entertainer in UK: Adam Night among numerous people who have watched his performances will agree to the fact that he is versatile, funny, and he can turn even the most dull dinner parties into the most exciting and fun-filled one. He is a talented hypnotist who can customise his hypnotism shows to suit any kind of audience that sits in front of him.
An Entertainer Who gives you Value for your Money: among so many other entertainers, Adam is one of the most unique ones. This quality makes him one whose show you would like to watch over and over again. In simple words, you can rest assured that the money you invest in watching his talent won't go to waste.
A Stage Hypnotist: Stage hypnotism has always been something out of the ordinary for people. Now you can experience hypnotism like never before in the "stage hypnotism" that Adam offers. Let him take control of your mind and show what powers the human mind actually holds.
A Comedy Hypnotist: in the world of entertainment, Adam is the most honoured and respected comedy hypnotists in the country. He is trained, experienced, and advises people on many aspects in life. Both in the UK and worldwide, he has been a popular "TV hypnotist" as well. Adam holds complete respect for his audience and you can rest assured that all his acts are under the rules of the Federation of Ethical Stage Hypnotics.
Adam Night is popular as a performer who has turned after dinner entertainment into phenomenal ones. He has entertained people in wedding dinners, birthday parties, corporate events, and so many other occasions. He is known as the best entertainer who never fails to show his audience exactly what they expect! Professional in manner, and offering the most affordable rates for a memorable after dinner entertainment, you can contact Adam Night now and turn your day into one that surpasses magic.