Corporate Entertainment
There are many reasons why you might be hosting a corporate entertainment evening. Maybe you are looking to celebrate your latest company achievements. Alternatively, maybe you are seeking to entice new clients and encourage more prosperous relationships with your existing customers. In either case, booking the right corporate entertainment plays a huge role in making your day or evening as memorable as possible. The only question is, what kind of entertainment should your event feature in order to really wow your audience? Allow us to help you decide and show you what Adam Night has to offer.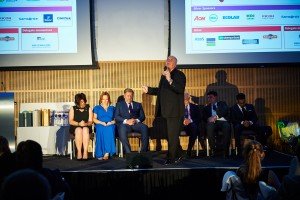 Comedy Hypnotist Entertainment: Dynamic, Unique & Ultimately Memorable
As an acclaimed stage hypnotist, mind reader and comedy hypnotist, Adam Night has over 35 years experience using his hypnosis and mentalist powers to charm and astonish audiences all across the UK and europe.
Stage and comedy hypnotist performances are intrinsically different to musical and comedic line-ups. Primarily this is due to the almost endless possibilities for direct audience participation. However, stage hypnotist performances also foster a unique sense of wonderment among audience members, no less so when combined with comedy and logic skewing mind reading demonstrations similar to those seen on television by Derren Brown.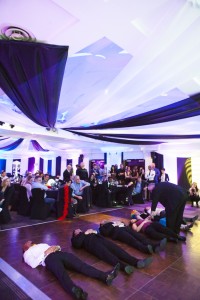 Comedic Corporate Entertainment of the Highest Value
Adam Night is a very experienced, professional entertainer that is always able to adapt his routine to suit everything from cultural specific events such as weddings and religious centred celebrations to sales conferences and award ceremonies, Adam Night provides stage hypnotist centred corporate entertainment  or mind reading / mentalism centred comedy entertainment of the highest caliber.
To be successful your event should have one focus and this should be to truly enthral and entertain your audience or clients. Adam Night appreciates this and strives on every occasion to deliver high-quality performances which will be the chief topic of conversation among event attendees long after events themselves have drawn to a close and may even get you a second bite of the cherry, as his performances are often written about on social media and company and trade publications.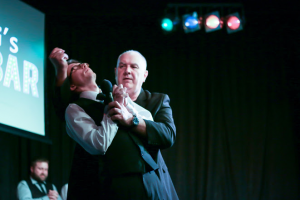 Green Flag TV Commercial 2017
Adam Night is available to discuss any advertising, marketing and TV commercial work requiring hypnotic stunts
Enquire Today
Are you planning on hosting an event to remember? Do you want to impassion your audience and ensure that your next event surpasses even your own expectations? Adams talent in corporate entertainment stems directly from his awareness of what a privilege it is to be booked to entertain your audience in the first place. This being the case, if you are looking to wow the audience at your next corporate event, make sure to contact Adam today in order to guarantee his availability and discuss which parts of his routine you would like him to incorporate.